Briggs & Stratton Kart Valves
RPM - RON'S PRECISION MACHINE, INC.
69 E. 580 N.
Santaquin, Utah 84655
1-801-754-5338 or Toll free 1-866-700-5877
e-mail
Don't forget to bookmark this site.
Engine Rebuild Kit and Parts Online Catalog
All valves are one-piece construction.
Call toll free to order at 1-866-700-5877 or e-mail or use the Order Form for questions and to check stock.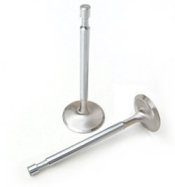 Briggs & Stratton Kart Competiton Series Stainless Steel Valves
These prices are not current.


Swirl Polished Stainless Steel, Chromed Stems, Stellite Tips. Ideal for use in all tough racing applications
This model features an undercut stem in the head area. In addition to reducing the valve weight (which provides benefits in opening rate and RPM limits) the radius of the head is such that is significantly improves air/fuel flow. This model enjoys great success when used with stock heads, as well as modified versions. Many available with Black Knight coating. Fully swirl polished. Chromed stems and Stellite tips.
BRIGGS & STRATTON ENGINES
APPLICATION
C.I.D.
HEAD
SIZE STEM
LENGTH
INTAKE or
EXHAUST PART NUMBER
Your Cost ea. $
Jr. Dragster or Karts
5HP
1.500
0.2485
3.900
1800
13.87
Jr. Dragster or Karts
5HP
1.000
0.2485
3.850
1805-1
14.07
Jr. Dragster or Karts
5HP
1.260
0.2485
3.850
1804
14.07
Jr. Dragster or Karts
5HP
1.300
0.2485
3.850
1806
14.07
Jr. Dragster or Karts
5HP
1.360
0.2485
3.900
1803
14.07
Jr. Dragster or Karts
5HP
1.375
0.2485
3.850
1806-1
14.07
Jr. Dragster or Karts
5HP
1.125
0.2485
3.850
1805
14.07
Jr. Dragster or Karts
5HP
1.140
0.2485
3.850
1807
14.07
Jr. Dragster or Karts
5HP
1.160
0.2485
3.900
1802
14.07
Jr. Dragster or Karts
5HP
1.439
0.2485
3.900
1803-S
14.07
Jr. Dragster or Karts
5HP
1.600
0.2485
3.900
1810
16.51
Jr. Dragster or Karts
5HP
1.700
0.2485
3.900
1811
16.51
Jr. Dragster or Karts
5HP
STOCK
STOCK
STOCK
1812-C
16.28
Jr. Dragster or Karts
5HP
STOCK
STOCK
STOCK
1813-C
16.28
HOME