Race Crankshafts
RPM - RON'S PRECISION MACHINE, INC.
69 E. 580 N.
Santaquin, Utah 84655
1-801-754-5338 or Toll free 1-866-700-5877
e-mail
Don't forget to bookmark this site.

More crankshaft prices coming soon for various engines & combinations.
Order Form
Engine Rebuild Kit and Parts Online Catalog
1- Big Block Chevrolet - Crower steel Billet - BBC 4.5" stroke. Installed but not run. $2200.00 plus $85.00 shipping to most places. (rod & main journals std., std.)
2- Other race parts for this Big Block Chevrolet engine like roller camshaft, bearings, pistons & wrist pins (high compression for the crankshaft above and the rods above - for talk deck block - 10.200"), and other parts.
3- Small block Chevrolet - Lunati steel crankshaft, stroker (SBC) 3.750" stroke (350 main journal size & rod journal size) .010", .010" perfectly indexed by Ron. The 90 degrees are right on and the stroke is exactly the same on all 4 journals. $1500.00.
4- Small block Chevrolet - Elgin steel stroker crankshaft (350 journal sizes) 3.750" stroke. New $500.00 plus $48.00 shipping to most places.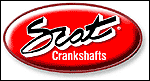 Scat Catalog

We no longer offer C&A crankshaft or any other parts from Childs & Albert. I do not know where to send you to find any parts from them.
Good luck in your search.
HOME