J.E. Pistons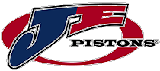 High Performance
Street Strip Race
RPM - RON'S PRECISION MACHINE, INC.
69 E. 580 N.
Santaquin, Utah 84655
1-801-754-5338 or Toll free 1-866-700-5877
e-mail

Order Form
Engine Rebuild Kit and Parts Online Catalog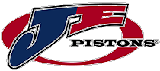 These pistons are designed primarily for off highway use. It is the customers responsibility to check Sate and Federal Emissions regulations.
These price are out of date and are not current!!!!
Pistons are only sold in sets. Not individually.
Chevrolet Ford Chrysler Buick NHRA Stock
Acura Honda Mitsubishi Dodge Import Ford Import
Nissan Toyota Volkswagen Subaru Misc.

HOME