Scion Cylinder Heads, Gasket Set and Parts
RPM - RON'S PRECISION MACHINE, INC.
69 E. 580 N.
Santaquin, Utah 84655
1-801-754-5338 or Toll free 1-866-700-5877
e-mail
Engine Rebuild Kit and Parts Online Catalog
Don't forget to bookmark this site.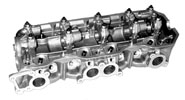 Cylinder Heads Order Form

CHV = CYLINDER HEAD New or non-welded remanufactured head assembled with valves, guides, springs, retainers, keepers, and valve stem seals.
CH = CYLINDER HEAD New, bare head with guides.
New or Non-welded Remanufactured - Purchased outright - No Core Charge

We also offer valves, gasket sets and parts for these cylinder heads separately.
Call toll free to purchase at 1-866-700-5877 or to check stock and/or order, fill out the Order Form or e-mail
Scion Cylinder Heads
Your Cost - Part Number
xA, xB 2004-05 1497cc 1NZFE engine

1.5L F.I. 16-valve DOHC 4 cylinder head - $654.55 CHVTO41 (00-02)

Tc 2005 2362cc 2AZFE engine

2.4L F.I. 16-valve DOHC 4 cyliner head - $685.93 CHVTO44
2.4L F.I. 16-valve DOHC 4 new bare head -$677.04 CHTO44
HOME