Acura Cylinder Heads and Parts
RPM - RON'S PRECISION MACHINE, INC.
69 E. 580 N.
Santaquin, Utah 84655
1-801-754-5338 or Toll free 1-866-700-5877
e-mail
Engine Rebuild Kit and Parts Online Catalog
Don't forget to bookmark this site.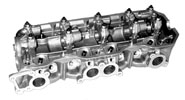 Cylinder Heads Order Form

CHV = CYLINDER HEAD New or non-welded remanufactured head assembled with valves, guides, springs, retainers, keepers, and valve stem seals.
Non-welded Remanufactured - Purchased outright - No Core Charge
Just arrow down to the model and engine you have to see your cost and part number.
We also offer valves, gasket sets and parts for these cylinder heads separately.
Call toll free to purchase at 1-866-700-5877 or to check stock and/or order, fill out the Order Form or e-mail
Acura Cylinder Heads
Your Cost - Part Number
Integra 1986-89 1590cc D16A1 engine

1.6L F.I. 16-valve DOHC 4 cylinder head - $420.90 CHVH16

Integra Vtec 1992-93 1678cc B17A1 engine

1.7L F.I. 16-valve DOHC 4 cylinder head - $777.65 CHVAC3

Integra Vtec 1994-01 1797cc B18C1 engine

1.8L F.I. 16-valve DOHC 4 cylinder head - $1123.55 CHVH18V

Integra Vtec 1997-01 1797cc B18C5 engine

1.8L F.I. 16-valve DOHC 4 cylinder head - $1123.55 CHVH18R

Integra 1990-95 1834cc B18A1/B18B1 engines

1.8L F.I. 16-valve DOHC 4 cylinder head - $65612 CHVH18

Integra 1996-01 1834cc B18B1 engine

1.8L F.I. 16-valve DOHC 4 cylinder head - $769.78 CHVH18P

CL 1997 2156cc F22B1 engine

2.2L F.I. 16-valve SOHC 4 cylinder head - $553.94 CHVH34

CL 1998-99 2260cc F23A1 engine

2.3L F.I. 16-valve SOHC 4 cylinder head - $769.78 CHVH36
Your Cost - Part Number
Vigor 1992-94 2456cc G25A1 engine

2.5L F.I. 20-valve SOHC 5 cylinder head - $518.71 CHVAC5V

TL 1996-98 2456cc G25A4 engine

2.5L F.I. 20-valve SOHC 5 cylinder head - $679.32 CHVAC5

Legend 1986-87 2494cc C25A1 engine

2.5L F.I. 24-valve SOHC V6 cylinder head- $595.99 CHVAC1F (front)
2.5L F.I. 24-valve SOHC V6 cylinder head- $595.99 CHVAC1R (rear)

Legend 1987-90 2675cc C27A1 engine

2.7L F.I. 24-valve SOHC V6 cylinder head- $595.99 CHVAC1LF (front)
2.7L F.I. 24-valve SOHC V6 cylinder head- $595.99 CHVAC1LR (rear)

CL 1997-99 2997cc J30A1 engine

3.0L F.I. 24-valve SOHC V6 cylinder head - $495.72 CHVH37F (front)
3.0L F.I. 24-valve SOHC V6 cylinder head - $495.72 CHVH37R (rear)

SLX 1996-97 3165cc 6VD1 engine

3.2L F.I. 24-valve SOHC V6 cylinder head - $513.05 CHVIS12N

Legend 1991-95 3206cc C32A1 engine

3.2L F.I. 24-valve SOHC V6 cylinder head- $593.39 CHVAC2L
3.2L F.I. 24-valve SOHC V6 cylinder head- $593.39 CHVAC2R

TL 1996-98 3206cc C32A6 engine

3.2L F.I. 24-valve SOHC V6 cylinder head- $593.39 CHVAC2LL
3.2L F.I. 24-valve SOHC V6 cylinder head- $593.39 CHVAC2LR

RL 1996-05 3474cc C35A1 engine

3.5L F.I. 24-valve SOHC V6 cylinder head - $838.16 CHVAC6L
3.5L F.I. 24-valve SOHC V6 cylinder head - $838.16 CHVAC6R

SLX 1998 3494cc 6VE1 engine

3.5L F.I. 24-valve DOHC V6 cylinder head - $545.16 CHVIS13L
3.5L F.I. 24-valve DOHC V6 cylinder head - $545.16 CHVIS13R
HOME